This year, I'm participating in
One Artsy Mama
's 1st Annual
Ornament Exchange
! It sounds like a great idea and I'm already brainstorming possible ornaments that I could make depending on who I'm matched up with. I love things like this but I've never participated in anything online before. I'm finally trying this year!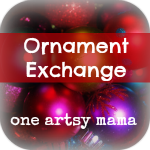 I just signed up! I hope you will too!
Do you know of any other blogs that do fun things like this? If so, let me know and I'd love to check them out!