This year, I had the pleasure of participating in the
One Artsy Mama
ornament exchange.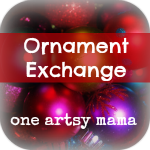 I was so excited to participate as I've never done an exchange before! As soon as I signed up, I began scouring the internet for ideas. Once I got my name, I was able to narrow it down. My recipient said she loved snowflakes. I was super excited to get her because she lives in the UK.
Eventually, I came across
this pin
.
Which led to
this website
.
Which led to
this tutorial
.
I took my list of beads with me to Michaels and couldn't find anything I wanted. Those I did like were glass and so expensive! When I got home, I searched the internet for a place to get beads and I came upon
consumercrafts.com
. They are amazing! They are officially my new go-to craft supply store!
While I was waiting for my beads to arrive, I got an amazing package in the mail of gift ornaments from my exchange partner, Inka. I'll be sharing those soon. But in it, I learned a little something about Inka - she's expecting her first baby (in fact, she's probably had him by now!) and it's a little boy she's going to name Liam. So I got to work to add a little something special for him. Here's what is going Inka's way (and is hopefully there by now as I mailed it out the Friday after Thanksgiving).
I made one of my mini Christmas
stockings and stitched his name on one side and 2012 on the other side.
Inka is also a collector of post cards.
I wasn't sure what kind she would like, so I sent her a whole bunch to choose from.
Being from just outside of Washington, DC, there were lots of sites to chose from!
This one is my favorite! It's shimmery! I wasn't sure if post card collectors liked them to be written on so I left them blank just in case.
And here are the snowflakes I made. I love them! I hope she does too! She put white, green, red, and gold as her favorite colors so hopefully she'll like these.
here
: