I had a great time participating in both of my ornament exchanges! It was my first time participating in any type of exchange and I came away with a great experience! I've shared what I gave and now I want to share what I received as an expression of my gratitude! I love everything I got!
My first ornament exchange was with
One Artsy Mama
.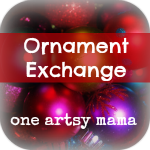 This was one where I gave someone a gift (a lovely lady named Inka) and she sent me a gift. Here are just two of the ornaments Inka gave me. She was so wonderfully generous! She has a detailed post of her ornaments
here
.
Inka put so much thought into my ornaments. Little did she know, we have some vintage crocheted snowflake ornaments so these fit so perfectly with our tree. She also threw in some blue ornaments because she knew it was my favorite color and none of the ones she made were blue. How sweet is that? I love them Inka!! They are so impressive! I can't believe you made them!
My second ornament exchange was with the Creative Headquarters. This is run by
Create.Craft.Love
,
Becoming Martha
,
Chase the Star
, and
Wait til Your Father Gets Home
.
Because this was run through Elfster, I got to interact with two different women. I sent my gift to Erin and got a gift from Ashley. A seriously awesome gift, I might add.
I'm really impressed with this because Elfster doesn't ask you questions about yourself. You sure guessed right, Ashley - I LOVE OWLS! He is so cute!
Here are some horribly bad pictures of our Christmas tree this year, covered in my new, wonderful ornaments.
Thank you so much to the two amazing ladies who sent me these awesome ornaments! I can't express how much I love them! Merry Christmas!!