I'm happy to report that I'm in week 7 of my 12 week Blog Mentoring Program with One Artsy Mama. Everything has been going great so far! Thanks to Amy's advice and guidelines, my monthly stats have doubled in the last six weeks. I couldn't be happier!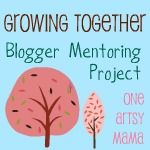 We've looked at a number of topics. My favorite, so far, was cleaning up your blog. I learned about which features were important to keep on your blog and what to add/take away. One of the topics I'm most excited about is learning about sponsors, affiliates, and advertising. I know absolutely nothing about them and I know Amy will be a great teacher (she has a really good teaching style that's really easy to understand).
Amy helped us lay out short term and long term goals. One of my short term goals was to get 25 likes on my Facebook page which I met and now I'm hoping to reach 100 followers (through a combination of GFC, Blog Lovin', and Linky Followers). I'm only 8 away so that's my goal for March!
My favorite thing about this course has not only been the help from Amy, but the feedback of the other participants. We all want each other to succeed and it's been wonderful to get their opinions on everything! There were so many things that I just had no clue where to start and everyone has been there to assist me.
I hope you'll take the time to visit the other participants in the series: