The last few weeks, I've been sharing with you my St. Patrick's Day decorations. This year, I made:
-
Shamrock Canvas Art
-
Jar of Irish Luck
-
St. Patrick's Day Tulle Wreath
Here is how it all came together:
I added some decorations I already had. I've got a lot of Irish themed items. This beautiful stained glass came from Ireland. My mom bought it when she visited me. Technically the tartan cashmere scarf I'm using came from Scotland but shhh...
The picture above was taken before I fully finished my decorating. I went back and added a little strip of leftover green tulle to the jar of Werther's Original (my dad got it as a joke for his 60th birthday - his friends said he had to get 60 of something so they gave him a jar of 60 Werther's Original candies. I thought they looked like gold).
I bought this Ireland direction sign online when I came back. I also have one for Cork (Coraigh). The signs are in English and Irish (Gaelic). The flag in my green vase is the Cork city flag I got from a souvenir shop there.
This is a pillow I bought when I got back from Ireland. It says:
May the road
rise to meet you.
May the wind be
at your back.
I found this shamrock wooden banner at Home Goods right after I came back from Ireland. It was fate. I snapped up two and have the other hanging in my room.
I can't remember where I found this cute little sign. Maybe at an Irish store in Boston?
I think it came out well together!
Be sure to come back on Sunday the super duper huge giveaway! Here's a hint...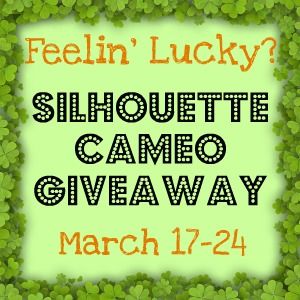 Okay, so it's more than a hint! We're having a Silhouette Cameo giveaway to celebrate
One Artsy Mama's blogiversary
! The giveaway will go live at Midnight Eastern Standard Time on the 17th so make sure you come back to enter!